College of Undergraduate Studies
Loading
Reciprocal Agreements
Kukulcan Spanish Language School
Every summer, Immaculata sponsors a study abroad program at Kukulcan in Cuernavaca, Mexico. In three weeks of intensive immersion, you can earn six credits that transfer to Immaculata as SPAN 101-102, or SPAN 201-202, or SPAN 335-303. The program includes excursions and visit to sites related to your area of interest, such as schools, hospitals, and courts. For more information, contact Marisa Pereyra, Ph.D., at mpereyra@immaculata.edu or 610-647-4400 ext. 3454.
Dublin Business School (DBS)
The DBS Study Abroad Program is a rewarding international learning opportunity where eligible American undergraduates spend a semester or full academic year at Dublin Business School/DBS School of Arts. DBS offers a 16-week semester abroad program to visiting U.S. students in both fall and spring each year. The program begins with a four-week foundation course covering the major aspects of Ireland and Irish society. Students then choose courses across the schools of business and arts for the remainder of the semester. An internship is also an optional part of the program.
Why choose DBS Study Abroad?
Ireland, or "Eire" in Irish, is famous for its history, beautiful countryside, and the hospitality of its people. Ireland has a strong cultural heritage with its own distinctive language (Gaelic), music, culture, and sports.
Ireland offers easy access to mainland Europe – just one hour away from London and one hour and thirty minutes from Paris and Amsterdam.
Ireland's relatively small size means that it is also very easy to explore the unspoiled countryside outside of class time.
DBS is Ireland's largest independent college with a student population of more than 9,000 and over 75 international university partners. Over the last 35 years DBS has established a considerable international reputation for the quality of its programs.
The DBS campus is located a mere two-minute walk from Dublin's main shopping street, in the heart of Dublin city center.
DBS has outstanding teaching and learning facilities, which include:

Extensive undergraduate and postgraduate libraries
Student cafeteria and common area
High tech IT laboratories
Wireless internet access
TV/film studios
Modern classrooms
St. Mary's University, London
St. Mary's represents one of the most exciting cities to enhance your studies and your social life. Our campus is delightful and feels a million miles away from the hustle and bustle of Central London.  We are located in a pleasant part of South West London where a green space is never very far away. At the same time you have all the advantages of the busy towns of Kingston and Richmond close by, and central London is just over 30 minutes away by train.
At St. Mary's we offer a student-centered, friendly atmosphere, very high student satisfaction rates, and a strong research culture, all of which place us in a favorable position among London providers of higher education. Our Catholic ethos is rooted in a tradition of making people of all faiths or no faith feel welcome, and in offering hospitality to everyone.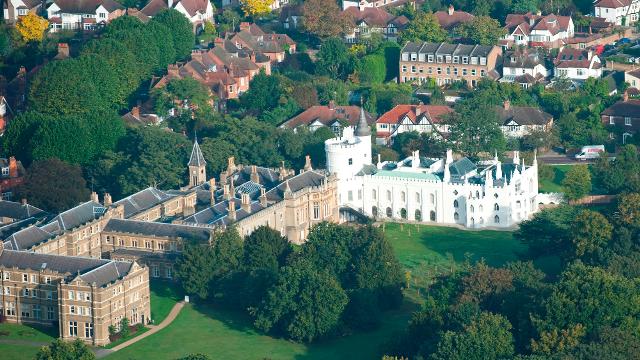 St. Mary's offers nearly 500 undergraduate degree programs. Many subjects can be combined, offering you flexibility and choice to shape your studies according to your own academic needs. 
Our students can experience 300 years of history and 150 years of teaching tradition and expertise, combined with the most up-to-date facilities. International students account for almost 10% of our total student population of around 5,000 and follow full degree programs as well as study abroad and Erasmus programs.
As an overseas undergraduate student, you may wish to spend a semester or a full academic year at St. Mary's, studying undergraduate modules together with our home students and other international students. You can normally select four modules per semester within the undergraduate subject areas. The credits you receive for completing the modules will contribute toward your degree from your home university. As a study abroad student, you will be fully integrated into the academic and social life at St. Mary's. Check out all the possibilities of study abroad with St. Mary's at their site.
St. John's University, Rome
Spend a full semester at St. John's University's campus located in the heart of Rome, the breathtaking "Eternal City" where history lines every street. While there, you'll conduct an in-depth exploration of Italian history, language and culture, using the distinctive academic resources of this remarkable city.
With Rome as your classroom, you can practice for Italian classes while chatting with locals in the markets, cafés and churches. You may prepare for your art history exam by sketching the masterpieces of Bernini in the Piazza Navona, or by exploring the baroque architecture and frescos of St. Peter's Basilica.
St. John's University
St. John's is a Catholic university founded in 1870 by the Vincentian Community, located in New York City. St. John's maintains branch campuses in Rome and Paris, where semester-long study abroad programs are offered.
Academic Program
All courses are taught in English, except for advanced foreign language courses. Each semester, St. John's Rome campus offers courses in:
Anthropology                                     
Art & Art History                   
Economics
Ethics                                                 
International Business
Italian Language
Philosophy
Political Science/Government
Theology
Qualifications
You must complete at least one year of full-time undergraduate study at Immaculata University and must generally have a minimum 2.75 cumulative GPA to apply.
Accommodations: Students will be housed in the centrally located Collegio Leoniano.
Collegio Leoniano Housing
Via Marcantonio Colonna, 21A
00192 Rome Italy
At the Collegio Leoniano, you benefit from the outstanding residential and academic resources of a world-class Catholic university within walking distance of central Rome and Vatican City.
Our newly renovated facilities offer students the wonderful opportunity to experience Rome with many of the comforts of home.
Facilities include:
A fully wired computer lab with printers
Double and triple rooms
High-speed wireless internet
Air-conditioned rooms
Beautiful courtyard and common spaces
Full time bilingual residence life staff, including residence directors and assistants
24-hour security along with key card entry to the building
Shared microwave and refrigerator on each floor for food preparation and storage
Historic Prati, a picturesque district rich in beautiful architecture, is a vibrant community just north of the Vatican in central Rome. Here students can live as locals, gaining an understanding of cultural differences between Rome and the United States.
With Vatican City just a short walk away, the Piazza del Popolo, Piazza Navona, and Castel Sant'Angelo are all within your reach. At St. John's Rome campus, you will truly live among the Romans
Meals and Personal Expenses
Students receive two meals per day during the week. Other meals, including all weekend meals, are the students' own responsibility. Self-catering facilities are provided in the residence kitchens. Former students suggest you plan to spend between $150 to $200 per week on food, local transportation, postage, laundry, theatre visits, personal expenses, etc. This amount will vary according to students' interests, habits and personal tastes.
University of Glasgow
Founded in 1451, the University of Glasgow is the fourth oldest university in the United Kingdom and has maintained a consistent reputation for academic excellence and innovative research. We are truly a Scottish university, with over 73% of our students coming from all over Scotland. We offer visiting students the opportunity to study in a world-class teaching and living environment.
For more than twenty years we have been welcoming visiting students. International students can choose from over 900 courses from a range of schools. This flexibility ensures a broad academic experience and allows you to match your study abroad options with your degree courses at home.
Glasgow, Scotland's largest city, is a bustling, lively, and cultured place to live and study. There is always something to see and do with excellent shopping, nightlife, museums, parks, and galleries. Glasgow is a friendly and welcoming multi-cultural city which has recently been voted "politest city in the United Kingdom."
The study abroad program is designed for students who elect to come to the University of Glasgow for a semester or year as part of their undergraduate degree program. 
St. Francis University, Ambialet, France
This unique semester abroad program in France is offered by Saint Francis University. The Ambialet site offers students the opportunity to experience the adventure, beauty, and history of Europe in the halls of this centuries-old Franciscan monastery nestled in the French mountains, overlooking the village of Ambialet. Students will also spend time living in Paris, experiencing the legendary sights. Activities are divided between Ambialet and Paris and also include interaction with the University of Albi, giving students the chance to develop skills and have experiences that a classroom setting will never provide.
Academic Program
Each semester, nine (9) general education credits will be offered in addition to six credits of a "flex-course" offered by the visiting faculty of that particular semester. The general education courses offered each semester are:
FREN 112 – Elementary French (3 credits, equivalent to FR 101 at IU): Functional skills in listening, speaking, reading, writing; introduction to French and Francophone culture.
RLST 400 – The Pilgrimage: Its Social, Religious, and Political Context in the Midi-Pyrenees (3 credits)
FNAR 102 – Culture and Values (3 credits) An overview of the visual arts, literature, and music from the beginnings of civilization to the present. The masterworks of varied cultural epochs are presented within their respective sociopolitical contexts in a manner which seeks to explain the artist's place in society, impart a sense of historical progression, and explore technical and expressive concerns.
The flex-courses offered during the fall semester are often in art, management and business administration, while biology and psychology courses are typically offered during the spring semester.
The semester includes a trip to Barcelona and an extended stay in Paris. 
Accommodations
Students are housed in the 14th century monastery that has been newly renovated with dorm-style rooms. There are typically two students assigned per room, with large bathroom facilities located in the same corridor. There is 24/7 internet access. 
Meals
All of your meals are included with the exception of the meals during any of the semester breaks and/or any independent trips you take.
St. Francis University
Saint Francis University, located in Loretto, Pennsylvania offers higher education in an environment guided by Catholic values and teachings, and inspired by the example of their patron, Saint Francis of Assisi. They initiated the Semester in France program in 2007.
You will need to complete an application for this semester in France and submit it to St. Francis University.
Irish-American Scholar Program
Through this reciprocal agreement, each year a student from Northern Ireland spends a year at Immaculata University. As a means of thanking Immaculata for hosting Study USA (BEI) students, the Northern Ireland institutions offer a limited number of openings in the Irish-American Scholar Program each year. This program enables a limited number of American students from Study USA-supporting colleges to spend one or two semesters at a university or college in Northern Ireland, tuition free.
Each fall, the church representative for your college will write to U.S. college presidents, inviting up to three applications from students who have a GPA of 3.2 or above. The students will be considered for a place at a Northern Ireland institution.
Unlike Study USA participants, the American students may opt for courses in any subject area available, for which tuition fees will be waived. Please note that American students must cover their own living and other costs while in Northern Ireland.
Please see the following links for more information on how to apply for, or nominate a student for, the Irish American Scholars Program.
Application Requirements: Program information and requirements for American students.
Application Form: For American students who meet the requirements and wish to apply for the program.
Nomination Form: For presidents or other college/university employees wishing to nominate students for the program.
Studying in Northern Ireland: Tips for American students who will be studying in Northern Ireland.
Please note that all application materials must be postmarked by February 1.
Who may apply: Current sophomores and juniors with at least a 3.2 GPA, studying at U.S. church-related colleges and universities participating in the Irish-American Scholar Program during the current academic year may apply for full-tuition scholarships, which are awarded on a competitive basis.
Irish institutions
Further information on the application process can be found at www.accunet.org.